Our good friends at Grey Lynn 2030 are running Grey Lynn's first ever Repair Cafe from 10:00 AM to 2:00 PM on Saturday 18 February. Bring your broken stuff!
What is a repair cafe?
It's where you bring along something in need of repair and a team of volunteer experts will repair it for you, and show you how the repair is done if you wish.
Examples of items you might want to bring in for repair are items of clothing, small appliances, bikes, small furniture, etc.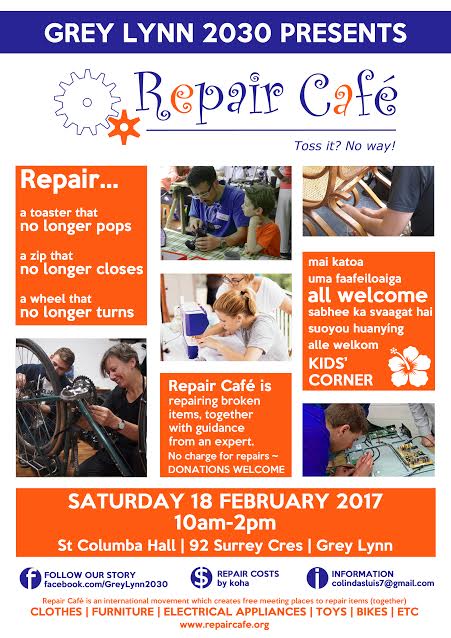 Why?
Repair Cafe is a concept that came out of The Netherlands in 2009 and is about repairing items rather than discarding them.
It's also about creating community spirit by having everyone come together for a repair day where you can have stuff fixed for free and learn how to repair them if you're interested.
There have been a few Repair Cafe events around Auckland – Pt Chev and Bayswater so far, and there are several in the planning in various suburbs as well.
This is a growing movement that you will see more of in Auckland in the future!
What does it cost?
Nothing, it's free! You may make a gold coin donation if you wish.
There will be coffee & food too, and a Kids Corner to keep the little ones entertained. There is plenty of off-street parking available.
Where
St Columba Hall, 92 Surrey Cres, Grey Lynn (near the top of Richmond Rd).
When
10:00am to 2:00pm Saturday 18 February 2017.
Please come along with anything that needs repairing!
And please spread the word.
More info at www.repaircafe.org