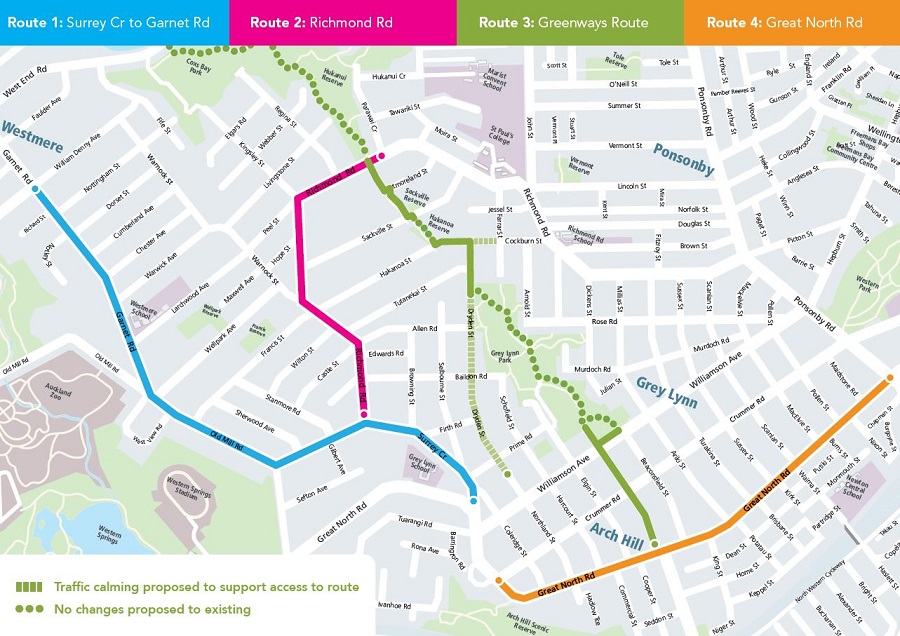 Yesterday we wrote to the Board of AT confirming our support for the Great North Road Improvements programme, and two other road programmes.
The letter was sent on behalf of our community in advance of an important AT Board meeting today that is due to discuss the Great North Road improvements programme and the Pt Chev & Meola Roads improvements programme.
We wanted to express our community's support for linking up of safe cycle ways across the inner city, and for increased greening of Great North Road ("a green boulevard"), both of which were strongly communicated to us during our extensive consultations while developing the Great North Road Community-led Vision.
Here is a copy of the letter sent…
27 February 2023

TO: AT Board: Wayne Donnelly – acting chair, Darren Linton, Kylie Clegg, Mark Darrow, Nicole Rosie, Abbie Reynolds, Councillor Andrew Baker, Councillor Mike Lee.

Dear AT Board,

We would like to confirm Grey Lynn Residents Association's support for the three road improvement programmes in our area…

Pt Chev & Meola Rd Improvements

Grey Lynn Residents Association (GLRA) supports the planned Pt Chev to Westmere Cycleway and associated road improvements.

Waitematā Safe Routes – Richmond Rd, Surrey Cres, Old Mill Rd, Garnet Rd

GLRA supports the Waitematā Safe Routes scheme (Richmond Rd, Surrey Cres, Old Mill Rd, Garnet Rd).
We are disappointed that Waka Kotahi has declined to fund this project.
We understand that AT will not proceed with the project for the time being.
We support AT reapplying for funding and proceeding with this project ASAP.

Great North Road Improvements

GLRA supports the planned Great North Road improvements.
We note that AT have addressed their "Movement" priority well and ideally they would also address their "Place" priority as part of the project plan.
This is not just about amenities such as street furniture but, critically in this time of global warming, we would like to see many more street trees that offer shade and help reduce temperatures in this otherwise harsh urban environment of hard surfaces.
We note that "Place" forms part of Waka Kotahi's criteria, as per their One Network Framework – "Putting people, place and movement at the heart of planning and investment". In regards to Place they state: "Consider the role roads and streets play as Places (destinations in their own right) as well as movement corridors."
Our community strongly voiced their desire for a 'green boulevard' when we consulted with them during the development of the Great North Road Community-led Vision (which was funded by Waitematā Local Board). We understand that the linear park concept as envisioned in the Vision plan is problematic and would like to work with AT in looking at other ways "Place" can be adequately addressed.

GLRA supports AT's completion of all three projects and looks forward to the linking up of safe cycle ways across the inner city.

Regards,

Grey Lynn Residents Association Inc committee

David Batten, Joanna Hurst, Nicola Legat, Tania Mace, Dan Salmon, Brandon Wilcox.