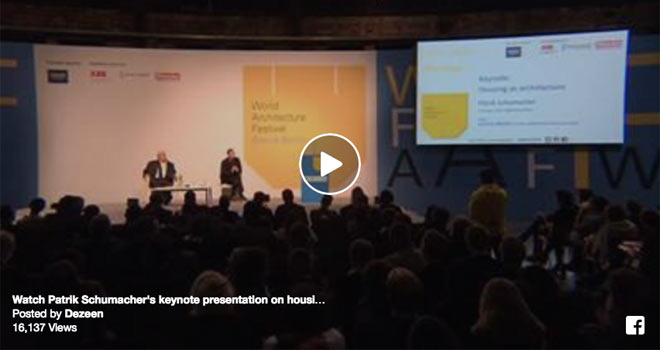 Could this work in Auckland? Patrik Schumacher, director of Zaha Hadid Architects, has an 8-point plan to solve London's housing affordability crisis…
His controversial plan includes getting rid of regulations, privatising all public space and scrapping social housing.

"Housing for everyone can only be provided by a freely self-regulating and self-motivating market process."
Patrik Schumacher outlined his plan during a keynote speech at the World Architecture Festival in Berlin last week.
His keynote outlined what he would do, if ever elected mayor, to make the supply of housing in London more efficient.
He also supported gentrification and foreign investment into property, saying these would all help London address its "affordability crisis".
Schumacher is critical of the press for demonising foreign investors who buy second homes in the city. He believes they should be welcomed, even if their properties are left empty for several months of the year.
"Foreign investment capital coming into town should be great news."
According to Schumacher, the real tragedy is that social-housing tenants have rights to precious city-centre properties.
"The fact that someone has had the privilege of a subsidised central location for some time, in my view should not establish ownership."

"Is it not fair that it's someone else's turn to enjoy the central location? Especially if it's those who really need it to be productive and to produce the support required for those that have been subsidised."
Schumacher says government regulations are stifling creativity and progress. He wants to abolish all land-use prescriptions and housing standards.
"All top-down bureaucratic attempts to order the built environment via land-use plans are pragmatically and intellectually bankrupt."

He also claimed housing standards are "robbing us of many choices".
He championed businesses including developer Pocket and co-living startup The Collective.
Pocket has negotiated smaller space standards in order to create what it calls "starter homes for city makers". It builds compact, one-bedroom apartments for London's city makers, priced at least 20% lower than the open market.
Pocket designs homes to suit the lifestyles of busy working singles and couples. It makes them affordable by including things people need, and leaving out things they don't.
The Collective is a community of 546 people living in studios and single rooms across several floors of a London building. It offers shared spaces including a big shared kitchen on every floor.
Its philosophy is to use shared space to bring people together. To do this they create collaborative and fun environments that expose members to new people, new ideas and new experiences.
"This is the kind of entrepreneurial flourishing I love."
Privatising all streets, squares, public spaces and parks – or even whole city areas – is also a good idea, he said. Schumacher even suggested Hyde Park could be replaced with a new city.
"How much are you actually using it? We need to know what it costs us!"
Patrik Schumacher's 8-point plan…
Regulate the Planners: Development rights must be the starting point, then tightly define and circumscribe the planners' scope and legitimate reasons for constraining development rights: access/traffic constraints, infringements of neighbours' property utilisation (rights of light), historic heritage preservation, pollution limits. Nothing else can be brought to bear – no social engineering agendas!
Abolish all land use prescriptions: The market should perhaps also allocate land uses, so that more residences can come in until the right balance with work and entertainment spaces is discovered. Only the market has a chance to calibrate this intricate balance.
Stop all vain and unproductive attempts at "milieu protection".
Abolish all prescriptive housing standards: Planners and politicians should also stay away from housing standards in terms of unit sizes, unit mixes, etc. Here too the market has the best chance to discover the most useful, productive and life/prosperity-enhancing mix. The imposition of housing standards protect nobody, they only eliminate choices and thus make all of us poorer.Stop all interventions and distortions of the (residential) real state market. (All subsidised goods are oversupplied and thus partially wasted.)
Abolish all forms of social and affordable housing: No more imposition of quota of various types of affordable housing, phase out and privatise all council housing, phase out the housing benefit system (and substitute with monetary support without specific purpose allocation).
Abolish all government subsidies for home ownership like Help to Buy: This distorts real housing preferences and biases against mobility.
Abolish all forms of rent control and one-fits-all regulation of tenancies: Instead allow for free contracting on tenancy terms and let a thousand flowers bloom. Here is a recipe for the creation of the dense, urban fabric that delivers the stimulating urbanity many of us desire and know to be a key condition of further productivity gains within our post-fordist network society.
Privatise all streets, squares, public spaces and parks, possibly whole urban districts.
What do you think? Is Patrik Schumacher batty or could his ideas work for Auckland? Leave a comment below to air your views on his controversial plan…
Read the full article and watch Patrik Schumacher's keynote presentation at Dezeen.com »
Watch Patrik Schumacher's keynote presentation live from World Architecture Festival 2016