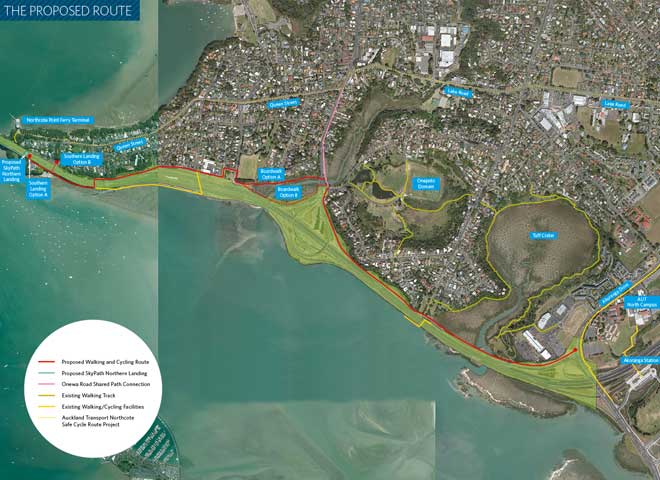 A number of Grey Lynn residents provided feedback on SeaPath, a proposed 3km long walking and cycling path between Takapuna and Northcote Point.
Although SeaPath is not a Grey Lynn project, it is of interest to Grey Lynn residents, especially if it connects directly with the proposed SkyPath harbour bridge crossing. This will open up the North Shore to easy bicycle and pedestrian access from our side of the bridge. 
About SeaPath
SeaPath is a proposed walking and cycling path between Esmonde Road in Takapuna and Northcote Point. It will run largely on the western side of the Northern motorway providing safe and direct connections to local communities, destinations such as the Northern Busway and the Northcote ferry service, and walking and cycling routes in the area.
We're especially excited about the prospect of walking or cycling to the Northcote Tavern for a quite ale, Bridgeway Theatre for a movie, or further on to Takapuna for everything it has to offer.
SeaPath consultation
During the recent consultation period, NZTA received more than 2,500 feedback forms. They are now collating the responses which will be a key consideration in the development of the future design. Once the feedback has been collated, NZTA will share the main themes, next steps and timeframes.
Some of the key themes so far include:
Strong support for a well-designed separated walking and cycling path with safe connections to local facilities.
Natural features should be recognised along with connections to the harbour for people to enjoy the coastal environment and views to the city.
The importance of safe, practical connections at either end of the path and along the route – in particular Akoranga Drive, Esmonde Road, Sylvan Ave, Onewa Road and Stafford Road.
The southern end of the path needs to provide a clear connection to the proposed SkyPath crossing, while the northern end needs a safe crossing and connection to onward routes.
To find out more or sign up for project updates: www.nzta.govt.nz/projects/seapath/