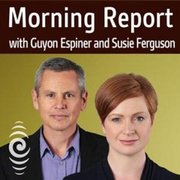 This morning Guyon Espiner talked to Brandon Wilcox of Grey Lynn Residents Association and Leroy Beckett of Generation Zero about the Auckland Unitary Plan.
Read the article and embedded interviews here or click here to listen to the Morning Report interview with Brandon Wilcox and Leroy Beckett. 
Background
The Independent Hearings Panel version of the Auckland Unitary Plan was released yesterday.
Auckland councillors will consider the recommendations over several days from 10 August. Decisions will be notified on 19 August. There are limited appeal rights until 16 September.
What's in the new Auckland Unitary Plan?
Key Observation: All heritage protection, including the interim pre-1944 building demolition controls, has gone.
In Residential Single House zones that means our lovely villas and bungalows can be demolished with no controls.
The city fringe areas include most of Auckland's heritage homes and the world's largest collection of Victorian wooden houses.
And yet the Independent Hearing Panel's recommendations for the Auckland Unitary Plan involve abandoning the pre-1944 building demolition controls.
We don't understand the point in abandoning heritage protection in a single house-zone. There's no intensification advantage in allowing character houses to be knocked down and replaced with another single house.

The only thing achieved is the destruction of our built heritage.

Over time it will strip Grey Lynn of its cultural identity.
Mixed Housing Urban: Up to two three-storey dwellings per site.
There is a pocket of Dryden and Schofield that is Mixed Housing Urban. This is the former Bethany and Dryden Lodge sites and, despite our best efforts, they have zoned Graham Dunster's house and the two sweet little pre-1944 houses next to Dryden Lodge Mixed Housing Urban too.
Sherwood, Stanmore and the northern side of Surrey Cres (west of Richmond) have been up upzoned to Mixed Housing Urban as have Sefton, Gilbert, Tuarangi, Rona, Barrington, Wellpark and much of Fisherton and Francis.
Terrace Housing and Apartment Buildings (THAB): 4- to 6-storey buildings.
The southern side of Great North Road west of Surrey has been up zoned into THAB. Despite little change from the interim release there will be some very upset people.