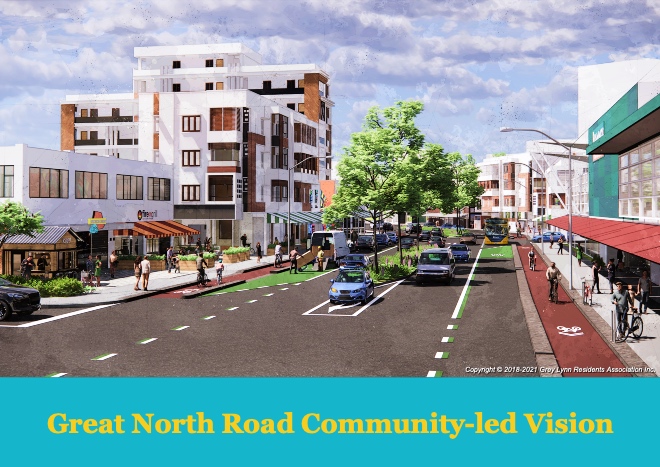 A senior University of Auckland architecture lecturer has lent his voice to the call for Auckland Transport (AT) to listen to the community before rushing through any changes to Great North Road.
Bill McKay, a regular Radio New Zealand urban issues commentator, and leader of the MArch (Prof) Professional Studies courses in the School of Architecture and Planning, was among local residents and business owners who last month joined a discussion hosted by Grey Lynn Business Association on the future of the Grey Lynn section of the road.
A community-led proposal
The GLRA's Brandon Wilcox and David Batten opened the evening with a Powerpoint presentation that summarised our association's community-led vision for the future of the portion of the road that runs from Ponsonby Road to the Surrey Crescent shops.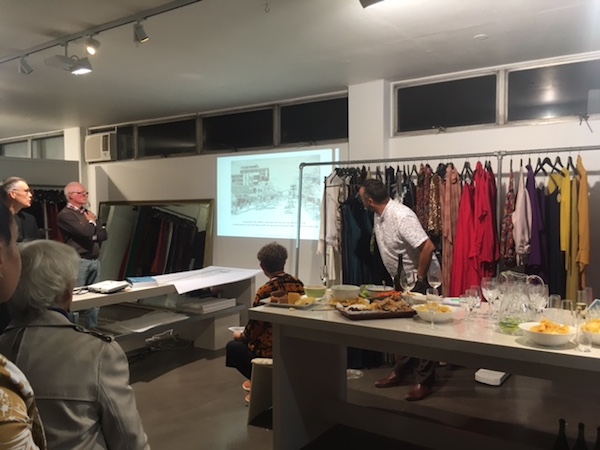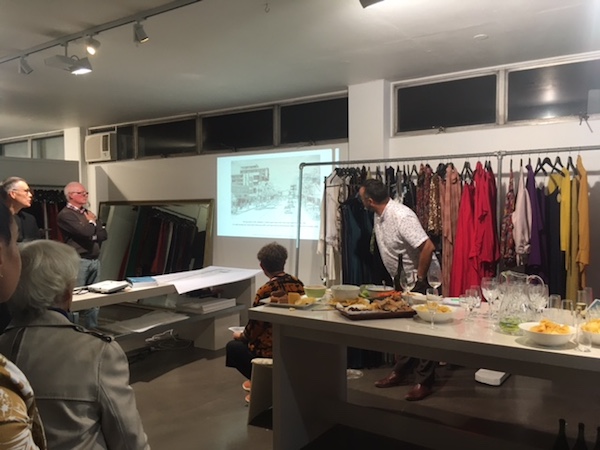 Beamed on to a white wall amongst the racks of striking silk-and-sequin designs of Grey Lynn clothing label Pearl, the presentation highlighted the community's vision for a people-centred place with more shops, residences and businesses, and more access for pedestrians, bikes and buses – not just cars.
AT's presenters began by outlining why roads in Auckland are a scarce commodity in a city that is growing up and out, and the urgent need to address the road safety crisis through managing speed along the ridge. Other AT priorities are removing 115 carparks to make way for buses, introducing a separated cycleway and increasing tree cover.
Prioritising a sense of place
While both parties agreed that they shared some common ground, Brandon summarised the weakness of AT's plan as "addressing movement of traffic only – whereas what's needed is a sense of place as well".
David and Brandon said ultimately, the difference came down to dollars. They urged AT not to rush ahead with a plan led by budget constraints but to instead pause and get it right.
Bill McKay added his voice in support, noting that Auckland is going through "an adolescent phase", and pointed to the success of trials like the one in High Street, which he suggested would be a better way for AT to arrive at a solution that works for both road users and the community.
Making way for a generational shift
He also challenged AT not to be short-sighted about its plans: "There's a generational shift going on at the moment – there's a generation coming who do not want cars; to us they were freedom, to them they're a burden." He ended with a plea: "Listen to the people who are in the area rather than speeding transport decisions through."
AT undertook to respond to the feedback and our proposal in person at a date and time to be confirmed. We await their update with interest.
Listen to Bill McKay discussing Great North Road with Kathryn Ryan on Radio New Zealand