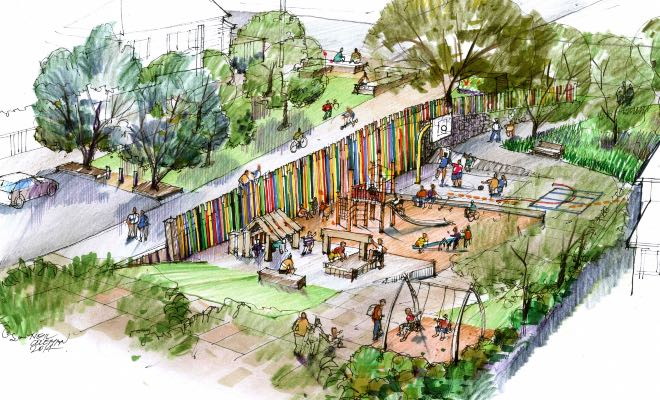 A rejuvenation of Home Street Reserve has been on Council's capital works budget since 2014. We kept the pressure up and now it's happening!
In August 2020, we brought you an update on Grey Lynn Park. Another local spot that we reckon is well overdue for a bit of love is Home Street Reserve.
The Arch Hill green space has been scheduled to receive some of the Waitematā Local Board's funding since 2014. So where's the project at?
The good news is that it's still on track for renewal despite Local Board budget cuts.
A rejuvenation proposal for the park was originally mooted in 2014 by the Waitematā Local Board and was widely consulted on at the time. Despite a 'downscale' it has been on their capital works budget every year since and it has taken considerable effort to keep the pressure on successive Boards to make good their intention to upgrade.
Currently, while the playground is reasonably maintained, its lack of connection with the adjacent road and overgrown trees gives it the appearance of not being a safe place, so it is pleasing to see a concept that has paralleled the changes in the makeup of our community.
Arch Hill has seen an influx of young families and until this point, places to safely play and congregate have involved travel to the fringes of our community or to Grey Lynn Park.
Waitematā Local Board's portfolio lead for Parks, Sports & Recreation Adriana A. Christie, noted that $375,000 is to be spent on the first phase of the redevelopment. She notes that, "The new design is fit for all ages, has higher visibility through the park, a new water tower feature, and a new basketball court".
The second phase, being the balance of the $553,000 is the creation of a community space overlooking the playground on the site of the current Home Street cul-de-sac off King Street.
The plan for this development will be consulted on to decide the final design next year.