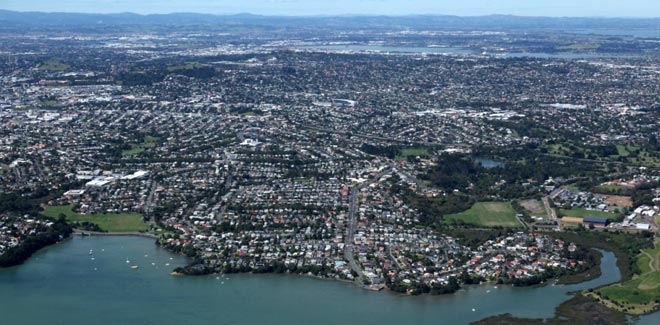 Auckland Ratepayers' Alliance has launched a "Unitary Plan Petition" to tell Auckland Council to withdraw their undemocratic "out of scope" zoning changes.
In December last year, just before Christmas (forgive us for being cynical about their timing), Auckland Council announced zoning changes to many Auckland suburbs with no consultation and no ability for ratepayers to give any feedback whatsoever.
If Auckland Council has its way, the properties affected will have their zoning changed by Council's use of an undemocratic "out of scope" provision. It has not been based on public feedback, and the public has no right of reply.
These changed zones will lead to dramatic increases in housing density in many suburban areas.
If Auckland Council has earmarked your street for "Mixed Housing Suburban" you could be facing 3x the number of dwellings in the same space. That's a big loss of leafy sections to accommodate concrete driveways, paths and 2-storey townhouses.
If your street has been earmarked for "Mixed Housing Urban" you could be looking at 3-storey buildings with no density limits, i.e. packed in like sardines.
We are not against intensification per se. In fact, we support intelligent intensification as being necessary to accommodate Auckland's growth and provide housing for those who need it.
What's at issue here, though, is not intensification but democracy. Auckland Council wants to introduce these changes in an undemocratic way. They do not seek public feedback – either for or against – and we the public have no right of reply. You might oppose the proposed changes. You might think they haven't gone far enough. Either way, Auckland Council doesn't care what you think. But here's how you can have a say…
Sign the Unitary Plan Petition
Sign the petition here to tell Auckland Council to withdraw the proposed changes until we, the ratepayers, have had a say!
"Auckland Council should vote to withdraw plans to rezone areas of Auckland in the Unitary Plan which have not been available for public consultation."
---
EDIT: We have been contacted by several members who do not feel it is appropriate that we publicise this petition given that the aims of the group behind it do not necessarily reflect those of the Grey Lynn Residents Association or our community.
Please note that our link to the Unitary Plan Petition does not mean that Grey Lynn Residents Association endorses the Auckland Ratepayers' Alliance. We do, however, support the opposition to the undemocratic out-of-scope changes to the Unitary Plan, and believe ratepayers should have a say.
We've decided to let you make up own mind up about whether or not to sign the petition, even though you may not agree with the wider aims of the Auckland Ratepayers' Alliance or its parent the New Zealand Taxpayers' Union.
Signing the petition is one way to have your views on up-zoning and out-of-scope changes heard, irrespective of who is behind the petition.